Day 1 :
Keynote Forum
Iowa State University, USA
Time : 09:30 - 10:00

Biography:
Dr. David Grewell received a BS, MS and Ph.D. in Industrial Systems and Welding Engineering from The Ohio State University with minors in biomedical engineering and polymer processing in 1989, 2002 and 2005, respectively. He holds 14 patents, has been given numerous honors and awards and as well as numerous publications, including two books. His interests include joining of plastics, micro-fabrication, laser processing of materials, bioplastics and biofuels. He currently works at Iowa State University as a Professor in the department of Agricultural and Biosystems Engineering. Dr. Grewell is the Director of the NSF Center for Bioplastics and Biocomposites, is the Chair of the Biopolymers & Biocomposites Research Team, a Board Member of the Ultrasonic Industry Association, Society of Plastics Industry and Society of Plastics Engineers. He also has a position at the University of Erlangen in Germany and is Fellow of the Society of Plastics Engineers.
Abstract:
This work presentation will highlight the research at the National Science Foundation (NSF) on Bioplastics and Biocomposites (CB2) as well as provide a detailed review of a project focused on biobased adhesives. Iowa State University (ISU) is in the process of scaling-up a demonstration of a commercially-viable family of economically competitive, biobased adhesives that comprise thermo-/photo-curable waterborne structural adhesives for wood-based composite materials. Much of the fundamental research into the polymerization – based on an innovative process developed at ISU – has been completed (see Figure) and the chemical pathways are fully understood; the current work focuses on identification and resolution of any remaining hurdles related to scale-up, demonstration of quality assurance, and optimization of the manufacturing process for industry compliance and acceptance.
The work has demonstrated the production of OSB (oriented strand board) produced with biobased adhesives that exhibit performance equal or even superior to currently available OSB boards. The bio-based OSB boards were compression molded with standard wood chips. Various thermal cycles and chemical initiators were studied to optimize the production of the OSB boards as well as their performance. The biobased OSB products exhibited superior tensile strength, three-point bend strength, toughness well as water resistance. They release zero VOCs (volatile organic compounds) and are economically competitive with boards manufactured using commercial adhesives. The team has completed a first draft of an LCA (life cycle assessment) and of a techno-economic model. A comparison of the production of biobased OSBs to commercially available OSBs showed a significant reduction in environmental impacts caused by the biobased product at competitive costs. The team at ISU is able to produce 1000 pounds of adhesive each day in the new pilot plant constructed at ISU's Biocentury Farm.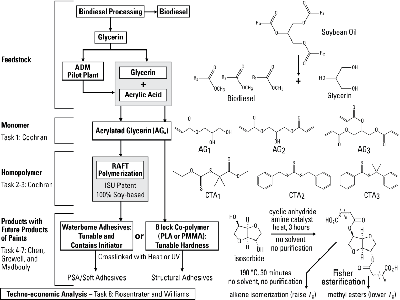 Keynote Forum
McGill University, Canada
Time : 10:00 - 10:30

Biography:
Christopher Barrett received his Ph.D. in Chemistry from Queen's University, Canada in 1997, working on photo-responsive polymers with the late Almeria Natansohn, and Paul Rochon. Barrett then spent 2 years at MIT's Department of Materials Science and Engineering as an NSERC Postdoctoral Fellow, '98-'99, working on self-assembled polymers at bio-surfaces, before joining McGill University in 2000, where he is now Associate Professor of Chemistry, and McGill's School of Environment. He has been a JSPS Fellow at Tokyo Tech, a Fulbright Fellow at UCLA and Berkeley, and has published 100+ papers on light-responsive materials, and bio-inspired polymers, composites, and naturally-sourced materials.
Abstract:
Recent advances in Green Materials Science should be of interest to the packaging industry, in the form of providing cost-effective bio-sourced alternatives to artificial plastics. indeed, traditional disposable plastics have now become a global environmental concern due to their overuse, non-degradability, and toxicity. Especially vulnerable are many fragile ecosystems often specifically targeted by eco-tourism, such as high altitude, remote, and Arctic destinations, where there can also be additional barriers to disposal of waste (Kumar et al., 2014). This presentation will highlight recent successes from various Sustainable Materials Science and Engineering efforts towards providing low- or non-impact plastics alternatives (Daley, 2016). These encouraging examples are part of a larger network of local efforts, which could readily be implemented in many environments, partnered with local Universities (Zhong, 2016). A general strategy to develop local production and implementation partnerships will be discussed.
Specifically at McGill University in Canada, as a working collaboration between our School of Environment, Center for Green Chemistry, and Materials Engineering Facility, we are developing a bio-inspired, sunlight-degradable plastics alternative (Borchers and Barrett, 2016). Constructed from completely bio-sourced natural starting materials, these new 'soft-bonded' materials can be easily and cheaply fabricated locally, to replace many of the current artificial plastics used for packaging, food transport, preparation, and consumption containers, vessels, and utensils. Containing light-responsive 'structural linking' units, when exposed to sunlight after use they mechanically (not chemically) degrade quickly and completely from the 'inside out', returning the polymer material starting components 'reversibly' back to their initial non-toxic and water-soluble form, out of sight and environmental harm.
Break:
Coffee Break: 10:30-10:50 @ Tiburan/Sausalito Foyer
Keynote Forum
Innoplast Solutions, USA
Time : 10:50 - 11:20

Biography:
Dr. Yash P. Khanna has over 40 years of highly diversified industrial experience. His career is credited with over 120 research publications, 25 U.S. patents, Society of Plastics Engineer's International "Engineering/Technology" Award (2001) and North American Thermal Analysis Society's Fellowship (1988) and its highest honor, the International Mettler Award (1997). His industrial affiliations include Chief Technology Officer at Applied Minerals (2013-2015), Senior Technology Fellow / Director of Technology at Imerys (2005-2009), a $5B minerals company and Manager of Reinforced Engineering Thermoplastics Program at Rayonier (2001-2004), a $3B forest products company. The great majority of his career was at Honeywell (1975-2001) formerly AlliedSignal, a $40B conglomerate company at its Corporate Research & Technology Center as a Research Group Leader / Senior Principal Scientist. During 1990-2001, he also held positions as Business Unit Liaison to Specialty Films and key technologist for Packaging Resins, where scientific fundamentals formed the basis of new product / process development as well as technology marketing in North America and Europe. These significant business contributions were recognized through 5 Special Recognition awards and 3 business awards ("Growth," "Sale of the Year," and "Save of the Year"). Now at InnoPlast Solutions, Dr. Khanna's technology driven business experience is playing a key role in offering "Value-Driven" conferences and courses.
Abstract:
Polyhydroxyalkanoates (PHA) are a new class of bioplastics that are produced by microbial bacteria as they ferment a variety of organic substrates ranging from naturally occurring oils to food wastes. Depending on the starting feedstock and the bacterial fermentation process, the chemical structure of PHA changes, thereby leading to a large variation in product performance. A number of companies around the globe have recently emerged with their plans targeting "Novel Manufacturing Processes" to "Commercial Applications". The differentiating feature of PHA that sets this class apart from the rest is the "Biodgradability in Waters as well as under Ambient Conditions", thus addressing Sustainability and Land-Ocean pollution issues confronting the society. This presentation will cover the latest on PHA technology and the current state-of-the-commercialization efforts.